Cobalt price starts 2018 with a bang
Cobalt has started 2018 on a high note, hitting a new nine-year high of $34.25/lb in recent weeks as global demand is exploding on the back of the electric vehicle (EV) revolution.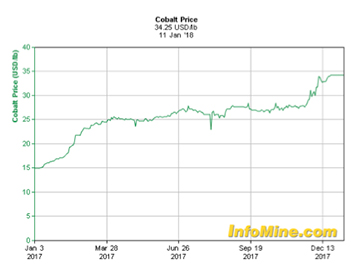 For those of you new to the space, Cobalt has many uses but fills its most crucial role as an 'energy metal' used to make lithium-ion batteries, which in turn have become the backbone of the 'Fourth Industrial Revolution', the result of which is a 150% price hike over the last 12 months alone.
Thanks to government support and consumer demand for EVs, cobalt has seen more than a threefold price increase in the past two years, as miners and automakers scramble to secure upstream supplies.
Global cobalt supplies of just less than 100,000t entered deficit-territory during 2016 and the supply gap is expected to widen significantly going forward. China has tight control over refined output, currently producing more than half of the world's refined cobalt and 85% of cobalt oxides, salts and other chemicals.
Overall cobalt demand is expected to rise by a compounded annual growth rate (CAGR) of about 6.9% from 2016 to 2020, with battery-related demand expected to grow at 11.7% CAGR from 2016 to 2022.
Of course, with so much focus on EV's, it can be easy to forget that the current cycle of rising cobalt prices actually started with the advent of mobile electronic devices such as smartphones, which use on average about 5g to 20g of the metal per device. However, the EV revolution is forcing demand to scale exponentially, using about 4kg to 14kg per vehicle.
Analyst forecasts point toward EVs reaching cost parity with internal combustion engines by 2025, and an incredible 140 new Tesla-sized gigafactories will be required by 2035 to satisfy battery demand, in an optimistic scenario. That's a lot of high-tech factories in a short space of time, owned by companies competing for cobalt supply.
Cobalt 27 has stockpiled physical cobalt holdings of 2,982.9t – the largest cobalt holding outside of China – and one that continued to increase in value since the company launched last year. Of course, we're not playing for short-term gain here.
Based on unique supply constraints and rising demand, cobalt is looking very good over the short, medium and long term. With that in mind, we feel very confident in our ability to continue delivering on our business strategy in order to build shareholder value, while minimizing risk.
Anthony Milewski, Chairman of Nickel 28
About Anthony Milewski
Mr. Anthony Milewski has spent his career in various aspects of the mining industry, including as a company director, advisor, founder and investor. In particular, he has been active in the commodities related to decarbonization and the energy transition, including nickel, cobalt, copper and carbon credits. Anthony has served on the London Metals Exchange Cobalt Committee, which includes representatives from the largest mining and commodities companies globally, to represent the interests of the industry to the board of directors the LME. Mr. Anthony Milewski holds a B.A. in Russian history from Brigham Young University, an M.A. in Russian and Central Asian Studies from the University of Washington, and a J.D. from the University of Washington. Anthony Milewski has been interviewed by numerous Media outlets, including BNN, The Financial Times, Bloomberg, The Northern Miner and many others. Most recently, Anthony Milewski has written op-ed articles for leading mining publications including The Northern Miner.
Forward-Looking Information: Some of the posted entries on the CEO Corner may contain forward-looking statements. Forward-looking statements address future events and conditions which involve inherent risks and uncertainties. Actual results could differ materially from those expressed or implied by them. Examples of forward looking information and assumptions include future estimates of the worldwide supply and demand for nickel and other metals and the effect that these changes could have on the short term and long term price of nickel and other metals on the world markets, statements regarding the future operating or financial performance of Nickel 28 including the net present value, metal recoveries, capital costs, operating costs, production, rates of return and payback. Forward looking statements involve known and unknown risks and uncertainties which may not prove to be accurate. Such statements are qualified in their entirety by the inherent risks and uncertainties surrounding future expectations. Among those factors which could cause actual results to differ materially are the following: market conditions and other risk factors listed from time to time in our reports filed with Canadian securities regulators on SEDAR at www.sedar.com.

In some cases, forward-looking statements can be identified by terminology such as "may", "will", "should", "expect", "projects", "plans", "anticipates" and similar expressions. These statements represent management's expectations or beliefs concerning, among other things, future operations and various components thereof affecting the economic performance of Nickel 28. Undue reliance should not be placed on these forward-looking statements which are based upon management's assumptions and are subject to known and unknown risks and uncertainties, including the business risks discussed above, which may cause actual performance and financial results in future periods to differ materially from any projections of future performance or results expressed or implied by such forward-looking statements. Accordingly, readers are cautioned that events or circumstances could cause results to differ materially from those predicted.

Links: Some of the posted entries on the CEO Corner may include links to 3rd party websites. Nickel 28 has not reviewed all websites linked to or from this Site and is not responsible for the contents of any such websites. The inclusion of any link does not imply endorsement by Nickel 28 of the linked website or its content. Use of any such linked website is at the user's own risk.
For further information we refer you to our legal notice.