DRC mulls tax hike on more than half of global cobalt supply
The Democratic Republic of Congo (DRC) is considering an overhaul of its cobalt tax regime to more-than-double the current rate, adding incentive to the energy metal's continued upward price momentum.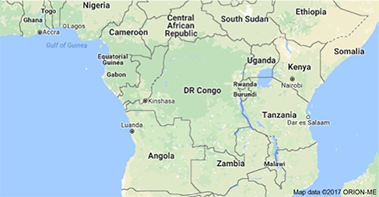 The DRC is considering designating cobalt as a 'strategic substance'. In doing so, we could see an increase in cobalt prices at a time when global acceptance of electric vehicles (EVs) is really starting to take off.
It's worth remembering here that cobalt's efficiency in conducting electricity has made it essential for rechargeable batteries used in EVs produced by companies including Tesla and Volkswagen. The cathode represents about 26% of the battery's cost and is crucial for improving energy density and performance. Although technology is always advancing, we won't see cobalt replaced in EV batteries for a very long time and, with EV demand in an unstoppable upwards trajectory, investors with cobalt in their portfolio could stand to benefit considerably.
If you've not read my post on the Vulnerabilities of Cobalt Supply, you need to know that the DRC is the world's largest cobalt producer and any shift in government policy regarding the industry will have downstream ramifications elsewhere.
Cobalt is primarily produced as a by-product of copper and nickel mining in the DRC, and for this reason, cobalt is classified as a base metal under the country's current mining code, alongside copper. If the proposed revision goes through, the royalty miners pay on exports of the metal could rise from 2% to 5% and the royalty on base metals will also climb 1.5%, rising from 2% to 3.5%.
In addition to the new royalty tax on strategic minerals, the draft mining law also introduces a profit-windfall tax; doubles the state's free share to 10%; and, reduces the period during which contract stability is guaranteed to five years from ten years – all factors contributing to a less certain outlook for DRC miners.
As you can imagine, the new classification is part of an overhaul of mining legislation that is sternly opposed by mining companies active in the country, who argue that the law may deter future investment. This is again an excellent reminder of why Cobalt 27 has specifically avoided pursuing royalty or streaming deals with companies active in the DRC.
Will the mining code update become law? Well, the revision has already been approved by the country's lower parliament, and is now before the Senate. Once a decision is made regarding the changes, the DRC will be able to select 'strategic substances' and the government has noted that any tax changes will be applied to all projects immediately.
At this stage, it looks as if Glencore might be hardest hit by the proposed tax changes, since it produces the most cobalt in the DRC, as well as being the top cobalt producer globally.
In 2017, LME cobalt prices gained about 120% as strong demand and supply concerns prompted prices to soar from $32,500/t to $75,000/t by early December. As you may already know, Cobalt 27 recently added 720t of physical cobalt to our physical holdings, bringing our current position to just under 3,000t of cobalt. That gives us the largest known cobalt holdings anywhere outside of China….
The fact that the DRC is pursuing this move, highlights the risk that runs through much of the cobalt sector. It is also a strong validation of Cobalt 27's founding goal, which is to give investors the opportunity to invest directly in cobalt, whilst sidestepping the considerable risks that miners have to deal with.
It also underscores our expectation to be able to act as a 'cobalt bank' – an attractive position to be in, with demand forecast to rise by a compounded annual growth rate (CAGR) of about 6.9% from 2016 to 2020. All thanks to the rise of the EV.
Anthony Milewski, Chairman of Nickel 28
About Anthony Milewski
Mr. Anthony Milewski has spent his career in various aspects of the mining industry, including as a company director, advisor, founder and investor. In particular, he has been active in the commodities related to decarbonization and the energy transition, including nickel, cobalt, copper and carbon credits. Anthony has served on the London Metals Exchange Cobalt Committee, which includes representatives from the largest mining and commodities companies globally, to represent the interests of the industry to the board of directors the LME. Mr. Milewski holds a B.A. in Russian history from Brigham Young University, an M.A. in Russian and Central Asian Studies from the University of Washington, and a J.D. from the University of Washington. Anthony Milewski has been interviewed by numerous Media outlets, including BNN, The Financial Times, Bloomberg, The Northern Miner and many others. Most recently, Anthony Milewski has written op-ed articles for leading mining publications including The Northern Miner.
Forward-Looking Information: Some of the posted entries on the CEO Corner may contain forward-looking statements. Forward-looking statements address future events and conditions which involve inherent risks and uncertainties. Actual results could differ materially from those expressed or implied by them. Examples of forward looking information and assumptions include future estimates of the worldwide supply and demand for nickel and other metals and the effect that these changes could have on the short term and long term price of nickel and other metals on the world markets, statements regarding the future operating or financial performance of Nickel 28 including the net present value, metal recoveries, capital costs, operating costs, production, rates of return and payback. Forward looking statements involve known and unknown risks and uncertainties which may not prove to be accurate. Such statements are qualified in their entirety by the inherent risks and uncertainties surrounding future expectations. Among those factors which could cause actual results to differ materially are the following: market conditions and other risk factors listed from time to time in our reports filed with Canadian securities regulators on SEDAR at www.sedar.com.

In some cases, forward-looking statements can be identified by terminology such as "may", "will", "should", "expect", "projects", "plans", "anticipates" and similar expressions. These statements represent management's expectations or beliefs concerning, among other things, future operations and various components thereof affecting the economic performance of Nickel 28. Undue reliance should not be placed on these forward-looking statements which are based upon management's assumptions and are subject to known and unknown risks and uncertainties, including the business risks discussed above, which may cause actual performance and financial results in future periods to differ materially from any projections of future performance or results expressed or implied by such forward-looking statements. Accordingly, readers are cautioned that events or circumstances could cause results to differ materially from those predicted.

Links: Some of the posted entries on the CEO Corner may include links to 3rd party websites. Nickel 28 has not reviewed all websites linked to or from this Site and is not responsible for the contents of any such websites. The inclusion of any link does not imply endorsement by Nickel 28 of the linked website or its content. Use of any such linked website is at the user's own risk.
For further information we refer you to our legal notice.