Google Charges up its Maps App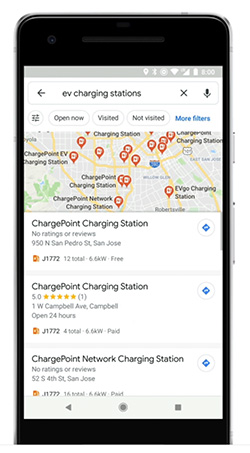 With well over 1 billion users, Google Maps rules the world of navigation apps. So, when it announced the addition of EV charging stations to its Maps app earlier this month, a lot of people took note. The feature includes info on location, number and types of ports and charging speeds – all of which is highly useful info for EV users.
Google is a company that has grown to global dominance through its ability to interpret and meet user needs. That the company took so long to add charging stations suggests Google was not initially convinced EV's were here to stay. Conversely, the fact that it has now allocated the time and resources to add the feature to Google maps makes it clear they know the direction that autos are headed.
Clearly a number of factors helped Google reach this conclusion. EV sales continue to grow month-by-month in numerous countries around the world and have reached a scale where Big Tech is rapidly buying in. The number of EV charging stations is also moving sharply upwards, thanks to a combination of government and corporate initiatives. There's still a ways to go in the installation of nationwide charging infrastructure in most countries but the push is well underway. Here are a few of the higher-profile initiatives out there.
Electrify America: In 2017, as part of its settlement with the US government relating to the emissions scandal, auto giant Volkswagen agreed to invest $2 billion in a new electric vehicle charging network in America. Walmart and Target are just a couple of the big retailers that have partnered with Electrify America to install charge stations at their outlets.
Chargefox Network: With $multi-million financial support from the Australian government, an AU$15 million EV charging network is currently being built in Australia by Chargefox.
ChargePoint Network: One of the world's largest charging networks is run by ChargePoint, which is targeting an estimated x50 increase for a total of 2.5 million charging stations by 2025.
Tesla Superchargers: Tesla has approx. 2,600 superchargers, at more than 370 stations in the US, Canada and Mexico.
Ionity Network: Jointly run by VW, Ford, BMW and Daimler, Ionity has charging stations throughout a number of European countries.
I could add a lot more but you can see the trend and, as we can see from the maps app, so can Google. The key point for investors to consider is that, as more charging infrastructure is rolled out, more demands will be placed on electric metal supply. Similarly, as the number of stations multiplies at an ever-greater rate, so too will consumer awareness and adoption of EVs.
We invite you to get in touch with any questions or comments.
Anthony Milewski, Chairman of Nickel 28
About Anthony Milewski
Mr. Anthony Milewski has spent his career in various aspects of the mining industry, including as a company director, advisor, founder and investor. In particular, he has been active in the commodities related to decarbonization and the energy transition, including nickel, cobalt, copper and carbon credits. Anthony has served on the London Metals Exchange Cobalt Committee, which includes representatives from the largest mining and commodities companies globally, to represent the interests of the industry to the board of directors the LME. Mr. Milewski holds a B.A. in Russian history from Brigham Young University, an M.A. in Russian and Central Asian Studies from the University of Washington, and a J.D. from the University of Washington. Anthony Milewski has been interviewed by numerous Media outlets, including BNN, The Financial Times, Bloomberg, The Northern Miner and many others. Most recently, Anthony Milewski has written op-ed articles for leading mining publications including The Northern Miner.
Forward-Looking Information: Some of the posted entries on the CEO Corner may contain forward-looking statements. Forward-looking statements address future events and conditions which involve inherent risks and uncertainties. Actual results could differ materially from those expressed or implied by them. Examples of forward looking information and assumptions include future estimates of the worldwide supply and demand for nickel and other metals and the effect that these changes could have on the short term and long term price of nickel and other metals on the world markets, statements regarding the future operating or financial performance of Nickel 28 including the net present value, metal recoveries, capital costs, operating costs, production, rates of return and payback. Forward looking statements involve known and unknown risks and uncertainties which may not prove to be accurate. Such statements are qualified in their entirety by the inherent risks and uncertainties surrounding future expectations. Among those factors which could cause actual results to differ materially are the following: market conditions and other risk factors listed from time to time in our reports filed with Canadian securities regulators on SEDAR at www.sedar.com.

In some cases, forward-looking statements can be identified by terminology such as "may", "will", "should", "expect", "projects", "plans", "anticipates" and similar expressions. These statements represent management's expectations or beliefs concerning, among other things, future operations and various components thereof affecting the economic performance of Nickel 28. Undue reliance should not be placed on these forward-looking statements which are based upon management's assumptions and are subject to known and unknown risks and uncertainties, including the business risks discussed above, which may cause actual performance and financial results in future periods to differ materially from any projections of future performance or results expressed or implied by such forward-looking statements. Accordingly, readers are cautioned that events or circumstances could cause results to differ materially from those predicted.

Links: Some of the posted entries on the CEO Corner may include links to 3rd party websites. Nickel 28 has not reviewed all websites linked to or from this Site and is not responsible for the contents of any such websites. The inclusion of any link does not imply endorsement by Nickel 28 of the linked website or its content. Use of any such linked website is at the user's own risk.
For further information we refer you to our legal notice.