U.S. Battery Build-Out: Massive Growth Sector Bodes Well for Battery Metals
Back in 2019, I wrote a post on the burgeoning growth of the energy storage sector. The main highlights from that post were:
Deployment of energy storage installations in the US alone doubled in 2018, with 2019 set for another doubling of deployed capacity.
80% year-on-year jump in deployed storage capacity to 777 megawatt-hours (MWh) of capacity in 2018, with the forecast calling for 1,681MWh of grid-connected storage to be deployed in the US alone in 2019.
US residential storage market quadrupled in 2018 year-over-year.
With the number of major power outages hitting the U.S. in recent months, the spotlight is now on grid resiliency. You see, renewable energy is a critical part of decarbonization, however, it plays havoc with power grids which are designed to rely on baseload energy from traditional sources of power generation. That's where energy storage facilities come.
So, in the two years since I last wrote about this area, what's happened?
The short answer is: a lot of growth. According to Wood Mackenzie, in 2020 the US energy storage industry crushed its previous quarterly installation records in two successive quarters. Annual deployments more than doubled in the year and are expected to nearly triple in 2021.
All of this is happening despite the global pandemic. Wood Mac's Energy storage director, Daniel Finn-Foley, went as far as to say "It's the hockey stick that we've long expected, and it's finally being realized."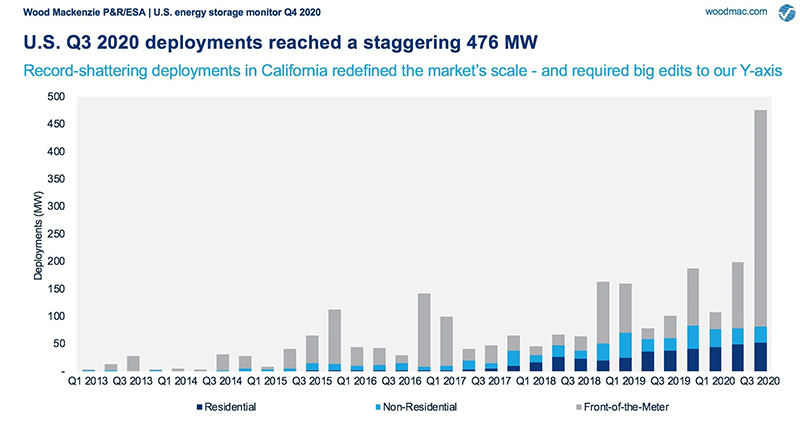 (Source: Wood Mackenzie / ESA U.S. Energy Storage Monitor)
Just as I'd highlighted in my 2018 post, the robust growth in the battery storage sector bodes well for key metals such as lithium, cobalt, graphite and of course nickel, all of which are needed to make lithium-ion batteries – which remains the current, undisputed leader as the commercial technology of choice for grid storage.
Of course, there are other battery technologies such as vanadium-flow batteries in the running, however, lithium-ion batteries will continue to dominate the grid-storage mix for at least the next decade, and almost certainly longer, given vast investments flowing into lithium-ion battery mega-factory build-outs worldwide.
Anthony Milewski, Chairman of Nickel 28
About Anthony Milewski
Mr. Anthony Milewski has spent his career in various aspects of the mining industry, including as a company director, advisor, founder and investor. In particular, he has been active in the commodities related to decarbonization and the energy transition, including nickel, cobalt, copper and carbon credits. Anthony has served on the London Metals Exchange Cobalt Committee, which includes representatives from the largest mining and commodities companies globally, to represent the interests of the industry to the board of directors the LME. Mr. Milewski holds a B.A. in Russian history from Brigham Young University, an M.A. in Russian and Central Asian Studies from the University of Washington, and a J.D. from the University of Washington.
Forward-Looking Information: Some of the posted entries on the CEO Corner may contain forward-looking statements. Forward-looking statements address future events and conditions which involve inherent risks and uncertainties. Actual results could differ materially from those expressed or implied by them. Examples of forward looking information and assumptions include future estimates of the worldwide supply and demand for nickel and other metals and the effect that these changes could have on the short term and long term price of nickel and other metals on the world markets, statements regarding the future operating or financial performance of Nickel 28 including the net present value, metal recoveries, capital costs, operating costs, production, rates of return and payback. Forward looking statements involve known and unknown risks and uncertainties which may not prove to be accurate. Such statements are qualified in their entirety by the inherent risks and uncertainties surrounding future expectations. Among those factors which could cause actual results to differ materially are the following: market conditions and other risk factors listed from time to time in our reports filed with Canadian securities regulators on SEDAR at www.sedar.com.

In some cases, forward-looking statements can be identified by terminology such as "may", "will", "should", "expect", "projects", "plans", "anticipates" and similar expressions. These statements represent management's expectations or beliefs concerning, among other things, future operations and various components thereof affecting the economic performance of Nickel 28. Undue reliance should not be placed on these forward-looking statements which are based upon management's assumptions and are subject to known and unknown risks and uncertainties, including the business risks discussed above, which may cause actual performance and financial results in future periods to differ materially from any projections of future performance or results expressed or implied by such forward-looking statements. Accordingly, readers are cautioned that events or circumstances could cause results to differ materially from those predicted.

Links: Some of the posted entries on the CEO Corner may include links to 3rd party websites. Nickel 28 has not reviewed all websites linked to or from this Site and is not responsible for the contents of any such websites. The inclusion of any link does not imply endorsement by Nickel 28 of the linked website or its content. Use of any such linked website is at the user's own risk.
For further information we refer you to our legal notice.