When the WSJ Visited our Rotterdam Storage Facilities
Recently, we hosted a tour of Cobalt 27's Rotterdam warehouse – one of our three storage facilities that, together, host a total of 3,000 tonnes of cobalt.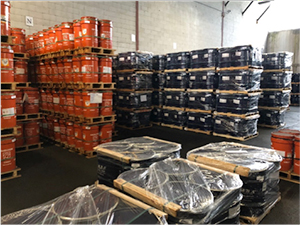 The Port of Rotterdam is the largest in Europe and one of the largest in the World. Like our Antwerp and Baltimore locations, our facility there is LME-certified. The LME (London Metal Exchange) is the world centre for the trading of industrial metals and most non-ferrous metal futures business is transacted via the LME. To give you a sense of scale, in 2017 this equated to $12.7 trillion notional, 3.5 billion tonnes and over 157 million lots. Becoming certified is no easy feat but, once done, it de-risks the business and it's one of our many advantages.
Ever wanted to know what millions of dollars of physical cobalt looks like? Check out the photo to the right. As Scott Patterson from the Wall Street Journal mentioned in his article after the visit, cobalt prices have risen 270% on the London Metal Exchange to about $80,000 a metric ton since early 2016. It really brings it home when you realize just how critical this metal is, to the continued growth of the lithium ion battery sector, which in turn is fueling a new industrial revolution.
Now technically the visit was for senior representatives from a number of financial institutions. After all, as industry demand for cobalt has increased, so too has interest in Cobalt 27. However, we also invited a few members of the financial Media along and the subsequent WSJ article is a good reminder of why our company has performed so well in such a short time. If you don't have a subscription, let me throw in a couple of lines that stood out:
"Booming demand for cellphone and electric-vehicle batteries has created a once-unthinkable metals-industry player: the pure cobalt company."
"Cobalt is now valued for its ability to withstand the intense heat generated by lithium-ion batteries."
"Cobalt 27's shares have quadrupled since it went public in Toronto in June, giving it a market value of about $370 million."
"London commodities researcher CRU Group predicts that by 2030, annual demand for cobalt for lithium-ion batteries will be triple the roughly 100,000 metric tons a year produced globally today."
Together, those quotes highlight the fact that Cobalt 27 combines the best performing asset class on the Toronto Stock Exchange - metals streaming and royalties, with the top performing commodity of 2017.
As demand for EVs and lithium-ion batteries continues to grow, so too does demand for Cobalt and with it, our ability to take advantage of additional growth in the cobalt sector. Increased demand also makes it easier for us to execute on our business plan. After all, it wasn't just the journalists who were impressed by the visit to Rotterdam.
If you have any questions, please don't hesitate to get in contact with us.
Anthony Milewski, Chairman of Nickel 28
About Anthony Milewski
Mr. Anthony Milewski has spent his career in various aspects of the mining industry, including as a company director, advisor, founder and investor. In particular, he has been active in the commodities related to decarbonization and the energy transition, including nickel, cobalt, copper and carbon credits. Anthony has served on the London Metals Exchange Cobalt Committee, which includes representatives from the largest mining and commodities companies globally, to represent the interests of the industry to the board of directors the LME. Mr. Anthony Milewski holds a B.A. in Russian history from Brigham Young University, an M.A. in Russian and Central Asian Studies from the University of Washington, and a J.D. from the University of Washington. Anthony Milewski has been interviewed by numerous Media outlets, including BNN, The Financial Times, Bloomberg, The Northern Miner and many others. Most recently, Anthony Milewski has written op-ed articles for leading mining publications including The Northern Miner.
Forward-Looking Information: Some of the posted entries on the CEO Corner may contain forward-looking statements. Forward-looking statements address future events and conditions which involve inherent risks and uncertainties. Actual results could differ materially from those expressed or implied by them. Examples of forward looking information and assumptions include future estimates of the worldwide supply and demand for nickel and other metals and the effect that these changes could have on the short term and long term price of nickel and other metals on the world markets, statements regarding the future operating or financial performance of Nickel 28 including the net present value, metal recoveries, capital costs, operating costs, production, rates of return and payback. Forward looking statements involve known and unknown risks and uncertainties which may not prove to be accurate. Such statements are qualified in their entirety by the inherent risks and uncertainties surrounding future expectations. Among those factors which could cause actual results to differ materially are the following: market conditions and other risk factors listed from time to time in our reports filed with Canadian securities regulators on SEDAR at www.sedar.com.

In some cases, forward-looking statements can be identified by terminology such as "may", "will", "should", "expect", "projects", "plans", "anticipates" and similar expressions. These statements represent management's expectations or beliefs concerning, among other things, future operations and various components thereof affecting the economic performance of Nickel 28. Undue reliance should not be placed on these forward-looking statements which are based upon management's assumptions and are subject to known and unknown risks and uncertainties, including the business risks discussed above, which may cause actual performance and financial results in future periods to differ materially from any projections of future performance or results expressed or implied by such forward-looking statements. Accordingly, readers are cautioned that events or circumstances could cause results to differ materially from those predicted.

Links: Some of the posted entries on the CEO Corner may include links to 3rd party websites. Nickel 28 has not reviewed all websites linked to or from this Site and is not responsible for the contents of any such websites. The inclusion of any link does not imply endorsement by Nickel 28 of the linked website or its content. Use of any such linked website is at the user's own risk.
For further information we refer you to our legal notice.